FBC Lufkin Student Ministry
7th-12th Grades
COVID-19
WE LOVE OUR STUDENTS AND ARE HERE FOR YOU!
We are still ministering to our youth students during this time virtually and through other means!
Follow our Instagram account for the latest! Contact the church office or email Dan@fbclufkin.org if you need anything!

Join us as we read and discuss The Lion, the Witch, and the Wardrobe

by C.S. Lewis every Monday and Tuesday.
Read 2 easy chapters each day and then join a video conference call at 2pm where we talk about the characters and find life applications!
Dan will text you the link to the video call.
Jump in and join us whether you've done the reading, missed a few chapters, not done the reading at all but have seen the movie, or simply want to join the video chat just to hang out and talk. No grades. No expectations. Only good time spent together.
YOUTH SUMMER CAMP 2020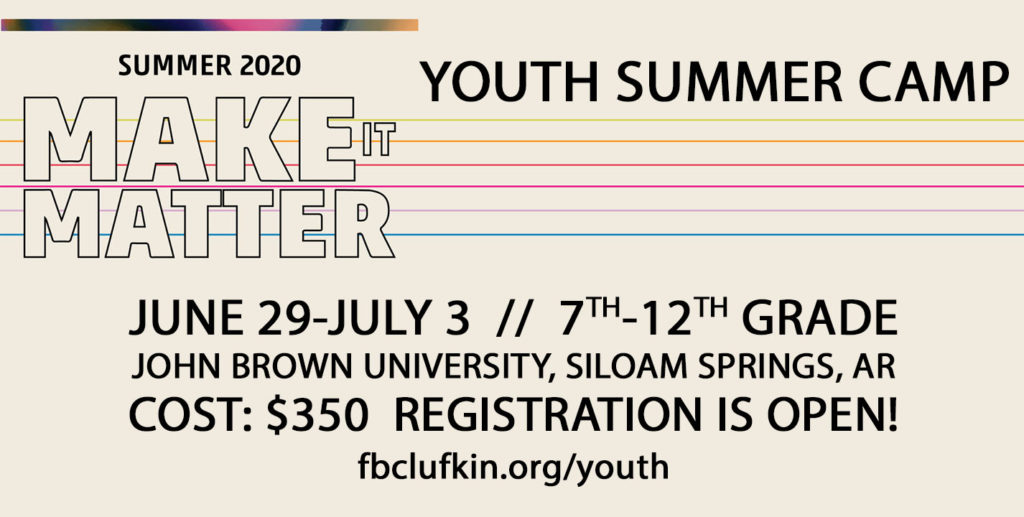 REGISTRATION IS OPEN!
There is help available if you need it! If you have multiple students wanting to go, we can give you a discount!
We also need at least two additional adult chaperones to help with driving (7-1/2 hours one way) and to lead small groups. Can be you, a person you know at church who you encourage to be a chaperone, or your college student who is home for the summer (and you want out of the house for a week)! Contact Dan if interested.
SENIOR TRIP 2020