Local & State Missions
COVID-19
If you are wondering how you can serve during this time or if you know of specific needs in the church family or community, call the church office and leave a message. See current opportunities below: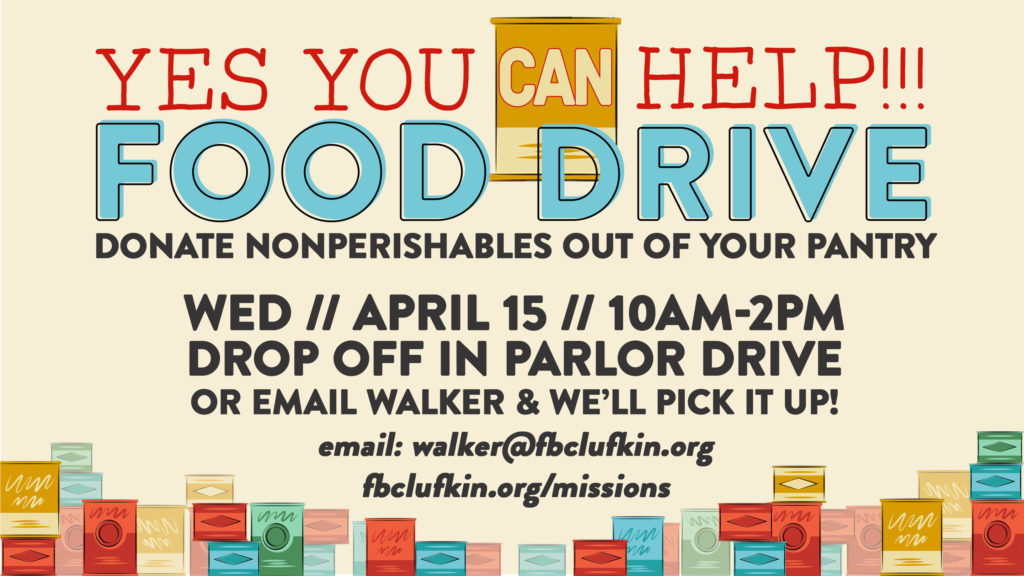 On Wednesday, April 15th, please join us in helping our local mission partners by donating cans or other nonperishables that will be used to help those all across Angelina County. Look in your cabinet and donate from your existing stock, no need to go to the grocery store – if you have extra, give extra! We are not asking for collection or drop off volunteers at this time, just generous and abundant giving.
If you are interests there are 3 ways you can participate:
1 – DROPP OFF: If you are willing and would like to, please drop off your cans between 10AM-2PM on Wednesday, April 15th in a basket located in the FBC Parlor pull through. We ask that you still follow the social distancing guidelines and do not congregate. Simply place your canned goods in the box and go about your day!
2 – SCHEDULE PICK-UP: If you are unable to come by the church or would feel more comfortable having your donation picked up from your house, please contact Walker McWilliams (walker@fbclufkin.org / 817.578.1341) with your name and address and he or another staff member will come and pick up your donation. Please have your donation accessible by the mailbox or driveway for staff to easily receive.
3 – PRAY & SUPPORT: If you are unable to participate don't feel bad! There will be many ways to continue to aid those in need during this pandemic and beyond! Please pray for our church and those ministries and workers on the front lines serving the most vulnerable!
Cooking tacos for CISC clients & & others every third Thursday.
Loving the students & teachers at at our adopted LISD school!
Ministering to our ill and homebound members.
Love and worship time for our special ed. friends.
A day of community service projects instead of usual worship service.

OCT 21 2018
Building homes for those in need in the Valley every other spring.
Local Partners and Opportunities
FBC Lufkin has been heavily involved in creating this organization that recaptures food from local schools and distributes to people in need! If you would like to be involved, contact secondhelpingsofangelina@gmail.com!
Buckner Rio Grande Valley CTC
Buckner Rio Grande Valley Home Build
North Lufkin Meal Project
Christian Information and Service Center
Love In the Name of Christ
The Men's Field House (CMJC)
Angelina College Baptist Student Ministry
Texas Cooperative Baptist Fellowship
Baptist General Convention of Texas
Texas Baptist Men's Disaster Relief
Lufkin Pregnancy Help Center
Lufkin Community Partners